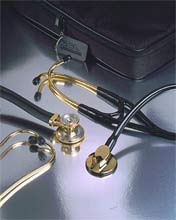 SPECIAL EDITION ADSCOPES™
Combining legendary acoustics with classic styling, ADC's special edition gold plated Adscopes™ are as striking as they are functional.
Both Special Edition ADSCOPES™ feature:
Generous plating of metal surfaces with 5 microns of 18 karat gold, polished to a brilliant shine
Choose from the Platinum Edition Multi-frequency scope (page 50), or our best selling Sprague type scope with interchangeable chestpiece fittings (page 57)
Special edition gold plated Adscopes™ packaged in a beautiful zippered nylon gift case
One year warranty on finish, lifetime on performance
ADSCOPE™ 600GP features:
Multi-frequency chestpiece that allows frequency selection by altering chestpiece pressure
19" bi-lumen tubing with integral spring
Binaurals fixed at 15º for greater comfort
Includes accessory case containing two pairs of Adsoft™ PVC eartips, traditional firm eartips, and scope ID Tag
Weighs 7.5 oz.
Overall length 27"
ADSCOPE™ 645 features:
Classic Sprague style scope with convertible chestpiece and 5 interchangeable chestpiece fittings for unsurpassed versatility
22" dual tube design for improved stereo separation
Accessory pouch containing 3 bell chestpieces, two pairs of eartips, spare diaphragm, and proprietary chestpiece key
Weighs 8 oz.
Overall length 30"
| | | | | |
| --- | --- | --- | --- | --- |
| Product No. | Product Description | Color | Price | Add |
| 645 | ADSCOPE 645, | 18KGP Deluxe | $55.95 | |